Pinball Roulette – a game for maniacs
Pinball Roulette is a hybrid of both pinball and roulette – offering the rapid action of a pinball table combined with the gambling aspect of roulette. You place your bets in exactly the same way as you would at a regular roulette table. Instead of the action switching to a wheel, you're taken to a pinball game. The numbers slide from right to left across the bottom of the pinball table, and the ball eventually makes its way into one of the numbered slots, after hitting some of the many pins and bumpers on its way down. To further the pinball action, after winning you are offered the opportunity to play a bonus round. It's certainly a different take on casino games, and offers something a little unusual and more entertaining, whilst keeping some elements of the traditional roulette. This game can be found at the 888 Casino.
Pinball Roulette – How to Play the Game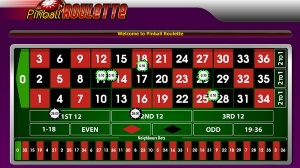 When entering Pinball roulette, the first thing you'll see is the betting area, which is exactly what you would normally find at a roulette table. The bets that you can place are the same – so you can bet on single numbers, red/black, odd/even, 1-18/19-36, or columns. You'll do this by simply clicking the desired chip value, and then clicking where you want to place the chip. At the betting stage there is a useful auto bet button, which you can set so that you can play the game up to ten times without stopping. Once the betting stage is completed, hitting "bet" takes you to the pinball table. Here a ball is launched and will eventually reach its destination. Usefully, all the numbers that you have wagered on will have a small yellow triangular mark beneath them, to make it easier to work out which are the winning numbers for you. If you have a losing game, then you'll be taken back to the betting area to start again, however a winning game will take you to another slightly different pinball table – offering you the chance to gamble your winnings. Should you choose to gamble, hitting multiplier bumpers will increase your winnings – however the ball must not fall into one of the "lose" channels, and must eventually land towards the middle of the table. You might hit the bonus ball, offering you another chance to gamble. Of course you could choose not to gamble your winnings, and simply collect your winnings and then bet again. One other option is a turbo option, where you'll bet and simply see the outcome instantly – however this option negates the whole appeal of this entertaining game.
Pinball Roulette at the 888 Casino
888 Casino is recommended for playing Pinball Roulette. This casino is a multi-award winner, winning the 'Best Online Casino of the Year' award at the Totally Gaming Awards an amazing six times. The site offers safe and secure banking and has an eCogra certificate – meaning that the games are rigorously tested and found to be safe and fair. The casino is both licensed by and regulated in Malta. As well as Pinball Roulette, 888 offer an incredible range of games. There are six main areas of the site – card and table games, new games, exclusive games, games and keno, live casino and slots. The live casino is perhaps the most impressive part of the site – you can play Roulette, Blackjack, Baccarat or Casino Holdem, all with a live dealer. You can interact with the dealers while you play via a chat-box. If slots are your preference, you'll be spoiled by the amazing selection at 888. Some slot games offer life changing jackpot pay-outs. If you want to play traditional roulette, you'll find a good selection of tables, and many other games are offered here – you'll always find a new and interesting game to play at 888 Casino. This casino has unique software that is compatible with all computer and mobile devices. When joining 888 Casino, you'll be given a free £88 to play with, as well as a 100% deposit bonus up to £100. You'll soon realize upon signing up, that the bonuses do not end there, with a good choice of promotions all year round.
Pros and Cons of Mini-Roulette
Pinball Roulette certainly offers the gamer something a little different. It's a fast paced game and offers many more action than you'd find in a normal roulette game. Having won, the bonus feature is there for the extra bit of gamble in you – and it is has that great mix of frustration and excitement that all good casino games should have. In the first part of the game the odds you're receiving are completely clear and these are the same odds you'd see at a traditional European Roulette wheel – the house having a set edge of 2.7%. However, at the gamble stage, it's not clear how often you'll win or lose, and for some players this might be something of a downside – these players might simply choose the option not to gamble at all. Overall the game offers a fast paced variation of roulette, which is both easy on the eye and offers excitement over and above what you'll find at the more traditional games.