Play Roulette for Real Money on your Phone or Tablet
Check how Many Games are Mobile Compatible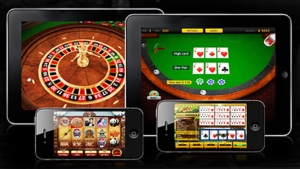 There are two ways you can enjoy mobile roulette, depending on your device. Most casinos offer in-browser games nowadays – sometimes all the games offered can be played in your browser. These work with Flash, Java and HTML5 and are usually compatible with tablet devices. iPads will not play Flash without a 3rd party plug in. Apps are far more varied. Native products for iOS and Android devices range from only 20 games, to well over 150, depending on which casino you play at. Some casinos only have a single basic roulette game on their apps, while others give you a choice of several variations.
Playing Live Roulette Games on Mobile Phones
You can also find apps for live-dealer roulette on your mobile devices. These tables are not well suited to mobile phones, with the stream of the dealer and betting grid needing more space. Bigger phones could handle this – though I recommend you play these games on tablets or computers. Some live-dealer roulette games have dedicated iPad apps. For Android or Windows devices, you can play the Flash version of these games in your browser window.
Roulette Betting Limits at Different Casinos
The minimum and maximum you can bet on a single spin varies considerably at different casinos. I have seen minimum requirements at £0.10p for inside bets and £0.50p for outside bets. Maximums can vary between regular tables and the 'VIP' roulette games. If you are a high roller then you should be able to request a betting limit hike via your account manager. 888 Casino has the best spread of betting limits at any mobile-compatible online casino. You can bet just £0.50p on a spin, or go all the way up to a staggering £40,000. You'll find plenty of bonuses and incentives to keep your bankroll topped up at 888 too.
Depositing at Mobile Casinos
There are three broad categories of deposit methods at mobile casinos. Some have full cashier functionality integrated in their apps. Others have cashiers which work with pre-registered deposit methods. These allow you to deposit via the web first time, and then use that same method through the app from then on. Some casinos require you to deposit using your browser – then start the app to play. I like to see license and game integrity certification before depositing. The most popular deposit methods are bank and credit cards. Visa, MasterCard and Maestro are accepted at most reputable casinos. You will also find that virtual credit cards and pre-paid cards are widely accepted. These are great for those who would like to keep their bank account and the casinos separated. The popular paysafecard is one example of a virtual Visa which has wide acceptance. The biggest and best brand name casinos also accept PayPal deposits, along with other eWallet systems including Neteller and Skrill. These online accounts allow you to keep some cash online, which you can move around to take advantage of the latest bonus and promotional offers. You will find many country and geo-specific eWallet brands, for example Russia's Webmoney. The final deposit method is to use bank transfers. This can be traditional wires or local services which utilize 3rd party systems. Bank wires are ideal for larger sums, though can take a couple of days to arrive at your casino.
Real Money vs Play Money Mobile Roulette Games
You will find play money games available at some casinos. These are great for trying out different strategies and finding out which games are your favourites. For me, they really can't come close to spinning the wheel with real money on the line. When you hit your number in a play money game, it feels good. It really does not recreate the feeling of hitting for real money – knowing that you'll be getting a stack of chips at 35-to-1 pushed your way. You are more likely to find play-money games at the virtual roulette tables than the live dealer ones. Since the overhead of the dealers is much bigger, the casinos usually have betting limits for these which are higher than for the virtual games. If you would like to check out the live dealer roulette games for free, then you'll be able to watch the game after you fund your account. You simply join a table, enjoy the action but do not place any bets. Having a great session on the real money roulette tables can give your bankroll a boost, and clear your casino bonuses at the same time. Make sure that when those chips next get pushed your way, they are for real and not just numbers.