Deal or No Deal Roulette what is it?
Deal or No Deal Roulette at first glance seems like a normal game of roulette. You bet as you normally would at a roulette table. However, there is one extra betting square, and that is the bonus bet section. You'll also notice that the roulette wheel is slightly different with an extra ring just outside the numbers which features two symbols – a telephone or a red box, both symbolizing the Deal or No Deal game. When the roulette wheel spins, the numbers spin clockwise, the extra ring spins anti clockwise, and the two symbols will land on two separate numbers. If you had placed a bet on the bonus section, and the ball lands opposite one of the two symbols you will be taken into an extra round where you'll get the chance to win up to 150x your stake.
Deal or No Deal Roulette – How to Play the Game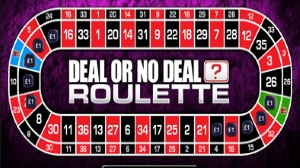 You can play Deal or No Deal Roulette as a completely normal roulette game, and place your favourite traditional bets whilst ignoring the extra ring and the bonus betting section. This would follow exactly the same rules and odds as you would expect at any online roulette game. However, if you place a bet in the bonus section, and you hit a symbol you'll be taken to a bonus round. The Box Bonus Round: Here you'll have to select one of twenty two boxes, and the game proceeds as the TV show does, with the player choosing to eliminate boxes in groups. The banker will make an offer after each set of boxes have been discarded and you'll choose whether to take that offer or not. If you proceed all the way to final two boxes without making a deal you'll be offered the chance to swap your boxes and you'll receive the amount in the final box. The Phone Bonus Round: Here you'll be offered three boxes – one box is gold, one is silver and the other bronze. The gold box represents a 100x maximum win, the silver 80x and the bronze 50x – so if you were to bet £1 on the original spin, picking a gold box will mean you can win up to £100. You'll then see a roulette wheel, this time featuring prizes in every slot (based upon the gold, silver or bronze levels) and you'll win the amount corresponding to where the ball lands. However, you get the choice of taking the amount or rolling again. You'll get up to three rolls – if you do roll a third time, you're guaranteed to win that amount having turned down the previous two offers.
Deal or No Deal Roulette at William Hill Casino
William Hill is the recommended site when playing Deal or No Deal Roulette. William Hill has been in the gambling industry since 1934, so when it comes to experience they are hard to beat. With this experience comes the knowledge that they are a site you can trust when it comes to all financial matters. The site is regulated and licensed in Gibraltar. The casino offers a whole host of entertaining games. One of the most impressive features is the live casino, where you'll play with live dealers at a real table, and this is the most lifelike way of playing at a casino without stepping foot in one. These games are very entertaining and also offer a social side as well – you can chat to the dealers and other players at the tables. You'll notice immediately that the William Hill casino has an incredible range of slots, featuring a good variety of lines, some with jackpots that that you could probably retire on. Scratch cards and arcade games are extremely well catered for, as well as a whole host of table games, and of course, many other roulette offerings. William Hill has an impressive initial deposit bonus of 100% up to £150. For the high rollers it is even better with a £300 bonus for deposits of £1000 or more. The site also rewards existing players handsomely with monthly loyalty bonus deals of up to £3,500.
Pros and Cons of Deal or No Deal Roulette
This is roulette with a difference and adds a real fun element to the game. Playing the game for the first time it is easy to presume there is just one bonus round, so having two different varieties at this stage of the game is a really nice touch. All parts of the game are very straightforward, so you'll know exactly what is going on at every stage, and there is a definite rise in the level of excitement when the ball does land in a slot next to one of the two bonus symbols. If you wanted to play a standard game of roulette, you could play here, but there are better roulette games out there. However I wouldn't envisage many players wanting to play just a standard game here, possibly mixing it up with standard bets and bonus round bets, or just betting on the bonus round in isolation. Overall, this game is a highly recommended, fun, exciting variation of roulette that offers a chance of a much bigger than normal win.