Flash Roulette Casinos
Advantages of Playing Roulette at Flash Casinos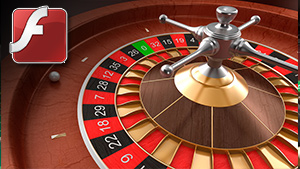 There are several advantages to choosing Flash games as your default option for online casino games. First of all, you can access your casino account from any computer or tablet device. Instead of being tied to your home computer or laptop. Flash enables you to fire up a game on whatever computer you are using or on your mobile tablet device. You may have a computer which is shared (for example a family machine) or one which belongs to your employer. Both of these situations could make it inappropriate to download casino software. Using a Flash casino gives you access to most of the same games, yet does not need to leave casino software where your boss or children might find it. Flash with work with most operating systems these days. If you have a Linux machine, then you will not have the option of downloading – at least without a Windows emulator. Using the instant-play version instead solves this issue. Apple devices do not officially support Flash code. Fortunately, independent programmers have stepped in and created a number of 3rd party plug-ins that allow you to use this technology. You can also use the Flash games to try out the roulette tables at different casinos before you choose the best one to play at longer term.
Game Selection at Flash Casinos
In-browser games now offer the majority of the titles that download casinos do. There are a few novelty games and slots which are only available via download. Almost every table game will work fine in your browser. With most games, as long as your screen size is big enough, you can enjoy the games just as well as if you were running the download version. Games available now include the innovative live-dealer roulette titles. These are streamed from studios 24/7, and allow you to bet virtually at a table hosted by a dealer in real time. These games work fine in Flash software, and you can even interact with the dealers via a chat window. 888 is a great example of a casino that has made their entire portfolio of games available via instant-play. There are downloads (and apps) available here too. Roulette fans will find some excellent games here. There are US, European and French roulette games, live dealer roulette and entertaining novelty games including Pinball roulette and Rockin' roulette.
Payment Methods for Flash Casinos
The old-style casino downloads are not needed for you to have access to the full range of casino payment options. You'll be able to access your account, claim bonus deals, deposit and withdraw all from within your browser. Exact payment method lists vary from casino to casino. There are some common options which appear on almost all of them. These can be broken down into three broad categories – Cards, eWallets and Bank Transfers. Cards include the big brands like Visa, MasterCard and Switch. Many casinos will also accept pre-paid and virtual Visa cards too – for example paysafecard. eWallets including PayPal, Neteller and Skill are also commonly accepted. If you move money around frequently online, it is worth investing the time to set one of these accounts up. International bank wires are possible at many casinos. There are also a lot of local Bank Transfer options in different countries, sometimes these are used in conjunction with 3rd party services.
3 Popular Flash Roulette Games to Check out Now
There are 100s of games to enjoy at different Flash casinos around the web. These include at least 30 different roulette titles – and many more table games too. Here are three games at different casinos which you can access in your browser right now. Pinball Roulette at the 888 Casino This is a novel variation on the roulette theme. The bets are essentially the same, with a betting grid and long line of the numbers along the bottom of the screen in the same order they appear on the roulette wheel. The difference is that instead of spinning the reel, you pull the pinball lever and watch the ball ping through metal pins and bounce around off of bumpers. At the bottom of the screen the numbers on the wheel go past, so when the ball hits the bottom it lands in one of the numbered slots. You can then try and parlay your winnings in a separate bonus round. There are plenty more roulette options to choose from which work in their Flash client. These include the live-dealer games as well as virtual tables. New players will get up to £88 in free-play to try out the games here too – a great way to experience the instant-play titles with no personal risk. 3D Roulette at the Winner Casino 3D roulette includes amazing graphics and animation work. Instead of looking at a table top-down, as you would at most online casinos, you look sideways from slightly above. This recreates the position you would see the wheel from in a live-game, adding to that feeling of being at a live casino. This is just one of several different roulette variations you can play in your browser using Flash at the Winner Casino. This casino is powered by PlayTech, which means that they are able to offer the Marvel themed slot game. You'll also find European and US wheels and games with the French 'la Partage' rule too. In addition to all the virtual roulette tables, there is a selection of live dealer roulette games on offer at the Winner Casino. You can try out the games for free with our £30 free cash offer. No deposit is required for this deal, which you can claim with our bonus code XXXXX. Mini Roulette at Betfair Casino If 37 slots on a roulette wheel are too many for you, then you can find a game with just 13 slots instead. Mini-roulette has 12 numbers and a zero, and allows you to make combinations of even money and 2-to-1 bets – as well as choose single numbers or splits. This game works great in instant-play mode. The smaller wheel and simplified betting grid make it ideal for mobile devices too. Betfair have a lot of roulette games on offer, all of which are available through their Flash based client. You can also find live dealer roulette games at this casino, which come with a special promotional offer. New players can get 10 free spins (worth £10) without needing to make a deposit. Play-through terms do apply to any winnings.