French Roulette online – how it started
French Roulette differs from both European and American roulette – the main difference visually is that the wording on the table and for many of the bets is in French. There are specialist bets available, and an extra rule – known as 'la Partage' which returns 50% of your stake from even money bets when the ball lands on zero. This seems like a small difference – however it does reduce the house edge significantly for players who like to bet on the 'outside' chances. The other difference is that a wider range of bets are available – neighbour and announce bets are a feature. Neighbour bets are when you want to bet on five numbers that are next to each other on the wheel. Announce bets are wagers on various parts of the wheel in French Roulette. Voisins du Zero means "neighbours of zero" and is a bet covering the 17 numbers closest to zero on the wheel. Le Tiers du Cylindre covers the 12 numbers furthest from zero. Finally Orphelins (Orphans) overs the rest of the numbers not included in the previous two bets. The French roulette wheel has just one zero. This page shows you how to play this game based on the standard French roulette table offered by Ladbrokes casino.
French Roulette – How to Play the Game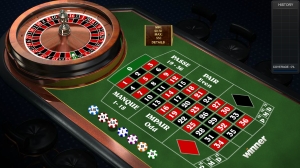 When you first enter the game you'll see a pay table which shows you how much you'll win for each bet. The table itself features a large betting area and a good sized wheel which is very clear and easy to follow. To place a bet, first click on the relevant chip value and then click again to place it in the desired spot in the betting area. You can place as many bets as you want on each spin, as long as you don't go over your balance, which is on display in the bottom left hand corner. If you want to place more than one chip on a selection simply click again and the chips will stack. If you make a mistake at any time, you can simply click clear and start the betting again. To place either neighbour or announce bets there are buttons at the bottom right hand side of the screen which when clicked will bring up a the racetrack betting surface When you've finished betting, clicking "spin" will set the ball in motion – and you'll soon know whether you have been successful with your betting or not. Your balance will update automatically. To make the game easier, there is a "rebet" button which will place the same bet as you made for the last spin. Some French Roulette games use the 'en Prison' rule instead of 'la Partage'. In this version the ball landing on zero means that even money bets stay in place for the next spin. This has exactly the same odds as the 50% stake return.
French Roulette at Ladbrokes Casino
We recommend you play French Roulette at Ladbrokes Casino. Ladbrokes are one of the world's oldest gambling firms – they actually started in the 19th century. Over the years they have always adapted to stay at the top of changes the gambling industry. Ladbrokes online gambling portal is best of class, offering poker, betting and bingo as well as a title-packed casino. Ladbrokes casino has a fresh, vibrant feel and the first thing you'll notice on the front page is their large offering of jackpot slots. These prizes go into seven figures in some cases. As well as the slots, the casino offers a great range of card games, scratch cards, arcade games and of course, many versions of Roulette. One particularly good area of this casino is the live dealer section – which is streamed from the PlayTech studio in Riga, Latvia. In the live casino you're given the opportunity of playing Roulette, Baccarat, Blackjack or Casino Holdem. These games are hosted by a live dealer, and the outcome of your bets is based upon the live action. French roulette, along with a choice of the grid or racetrack betting surfaces, is available at the live-dealer casino. When joining this casino, you'll be given a choice of three separate deposit bonuses, so you'll be able to choose the bonus that suits your bankroll. This bonus is between 50% and 125% and is up to an impressive £500. Ladbrokes are well known for offering promotions and special deals to keep the bankrolls of their loyal players well topped up.
French Roulette – Pros and Cons
French Roulette is fast becoming the game of choice for serious players and high-rollers. The 'la Partage' (and 'en Prision' where available) rules do make a material difference to your return. How much this reduces the base house edge of 2.7% depends on the proportion of even-money bets you make – and so will differ from player to player. Another significant plus for this game is the ability to mix bets from the racetrack and grid betting surfaces. Some casinos may even have more specialist bets, including the 'numbers ending with' variations ('Finales' in French). Advanced players can use this mix of bets to great effect. Other players will find that the advanced bets add a fresh new angle to their games. Some players may miss the popular 'first five' bet available on the US wheel in this game. You may also find that this game only counts a small amount towards clearing your bonus. With a low house edge, the casinos need to ensure that they do not lose money this way. Overall, French Roulette is a better game than either the European or US wheels, thanks to the lower odds and bigger range of bets. I recommend you check out this game for yourself today at Ladbrokes Casino.