European Roulette – play like a champ
European Roulette is a version of the game that features a wheel with just one zero, in comparison to the American Roulette which features two zero's. This is the wheel of choice for experienced players, as the casino's house edge is considerably lower in this version. While 2.7% (for European roulette) and 5.26% (for American) might seem like a small difference – this has a big impact on your profit over the long run. This page shows you how to play European roulette, using the game at the acclaimed 888 Casino as an example. 888 are the biggest global casino brand. New players from the UK can claim £88 in free-play to try out the games for real money without risking your own bankroll.
How to Play European Roulette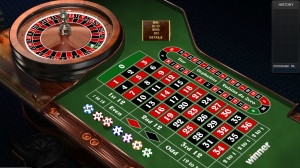 As soon as you load up the European Roulette at 888, you will see that this game is very straightforward. The game features a large, clear betting grid taking up the majority of the screen, with the wheel itself in the upper left hand portion of the screen. Bets that can be placed are the standard red/black bets, even or odd, 1 to 18 or 19 to 36, 1st 12, 2nd 12, 3rd 12 and columns – as well as the usual range of individual numbers, which can be cornered or split as well as bet on individually. When you're ready to bet you'll click on the different denominations of chips to select your bet size. Then you'll click the betting area and the chip you selected will be placed there. Most bets simply require clicking the relevant box, but split bets require clicking between two separate numbers, and corner bets require clicking in the centre of the four numbers. You can place as many bets as you want on each spin up to the table limit of £1000. The 'racetrack' betting grid is not available on the standard European roulette game at 888. This mimics the wheel layout and includes specialist bets including Series and Orphans. To start the wheel rolling there is a "spin" button. There is also a "clear" button if you have made a mistake in placing the chips. A smooth female voice will announce the outcome of the roll and will also inform you if you have won or not. Your balance will be automatically updated and you'll be ready to go again. There is a "repeat bet" option which automatically places the same bet you made last time, which will save you time if you have a lucky numbers or bets.
European Roulette at the 888 Casino
888 Casino is the recommended site when playing European Roulette. 888 Casino is the number one online casino brand in the world. They are multi award winning, having won the 'Best Online Casino Award' an incredible six times. The site is rigorously tested for fairness and has been awarded certificates from eCogra certifying their game integrity. The casino is both licensed by and regulated in Malta. As well as European Roulette, 888 offer an impressive casino which has a range of games that are both exciting and original. There are six main areas of the site – each covering a different type of game ranging from slots to classic table games and a live-dealer casino. What I like about this casino is that they are compatible with mobile devices including smartphones and all the popular computer operating systems too. 888 Casino create their own games instead of licensing them from 3rd party software providers. There is a huge range of slots at 888 Casino some with jackpots of more than £1,000,000. There are a total of 9 different roulette games to be tried at this casino. These include European and American wheels, French roulette, 3D roulette and a special low stakes game.
European Roulette – Pros and Cons
This version of the game is a very simple one, which isn't necessarily a bad thing as roulette is a very straightforward game. If you want to enjoy the game with no complications and easy game-play then this is the version for you. One immediate criticism of the 888 game is that the spin of the wheel is not particularly smooth and it is difficult to follow a particular number on the wheel. This means that the first time you'll know if you won or not is when the wheel actually stops spinning, which does make the game less enjoyable than some other roulette games. Some other games offer a wide range of statistics. This game does have a window with previous spin results. Because of only one zero on the wheel, this game offers far better odds for the player as the house edge is just 2.70% as opposed to 5.26% in the American version. You will find that the French version has an even lower house edge than European roulette. This version includes the 'la Partage' rule, which returns 50% of your stake on even money bets when the ball lands on zero. European roulette is a great introduction to the bets and strategies associated with this game. It can help to familiarize you with the game, and is enjoyable to play in its own right. Head on over to 888 Casino now and claim your free £88 to try out the games.