How the roulette game evolved to Mini Roulette
Mini roulette is a version of roulette where instead of the traditional thirty seven numbers in European or French roulette, or thirty eight numbers in American roulette, there are just thirteen numbers. The numbering on Mini roulette goes from one to twelve and there is one zero as well. The game is easy on the eye and has a fun feel to it, the spin of the wheel is quicker than at a traditional roulette table. Like normal roulette you'll be able to place a wide range of bets, the traditional red and black and odd or even bets being options. Other betting options are splits (two numbers), a street (three numbers) or a column (four numbers). You'll also be able to place a bet on a particular half a dozen, and these range from one to six, four to nine and seven to twelve. This page shows you how to play Mini roulette, using the game at Betfair Casino as an example.
Mini Roulette – How to Play the Game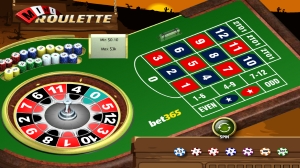 You can play Deal or No Deal Roulette as a completely normal roulette game, and place your favourite traditional bets whilst ignoring the extra ring and the bonus betting section. This would When entering Mini roulette game at BetFair you are presented with the wheel to the left of the large betting area. To begin playing, you simply click your desired chip value and then click on the relevant section of the betting area, and your chip will appear here. You'll be able to place more than one bet on each spin, and if you make a mistake you'll simply click "clear bets" and you'll be able to start again. When all of your betting is done, you'll click "spin" and the action begins – and the game will automatically update your cash balance after the result of the spin. Betting on either red/black, odd/even or any half a dozen will result in an even-money win – that is, you'll receive double your money. Betting on a corner or a column which covers four numbers pays out 2:1, betting on a street (3 numbers) pays out 3:1 and betting on a split (2 numbers) pays out 5:1. If you have a straight bet on a single number the pay-out is 11:1. You'll be able to place a bet on the zero, and if this hits then you'll be paid out at 11:1 as you would with any other single number. However, if you place a bet on any other number/combination and the zero hits, you'll be given half your stake back. For example, if you placed a £5 chip on red, and the ball lands on zero, then £2.50 will be returned to your balance.
Mini Roulette at Betfair
Betfair Casino is our recommendation when playing Mini roulette. Betfair is an award winning company having twice won the Queen's Award for Enterprise and numerous gaming industry awards too. As the industry leader, they offer a safe and secure environment for all of your gambling needs, and are regulated in Malta by the Lotteries and Gaming Authority. The Casino at Betfair is impressive – and their coverage of all types of casino games is extremely varied. This casino is based on the powerful PlayTech platform, and also hosts the titles from several other different software providers. The slots are divided into categories based upon number of lines or whether they have free spins or interactive bonus rounds, there is a huge selection of each type. For roulette, other than the Mini version there are thirteen varieties, and table games are comprehensively covered too. Betfair also has a live casino, where you'll be able to play Roulette, Blackjack, Baccarat or Casino Holdem with a live dealer. When signing up to this casino, you will receive 10 free spins on the live-dealer roulette game, worth £10. You'll also have three welcome bonuses to choose from, one for all games, one specifically for slots, and the other for players in the live casino. For the Mini roulette player, the general purpose welcome bonus is recommended – this is a considerable 200% match bonus of up to £300. You'll soon realize after using the casino that a welcome bonus is not the only incentive to play here – many more promotions await you.
Pros and Cons of Mini-Roulette
When playing the game, there is one big advantage over traditional games you'll notice immediately – it is very easy for you to follow a particular number. With single number betting a much more viable option than at other games, this is a win-win situation. As the game play is a little quicker than at an average roulette table, this version has an addictive feel to it, and having played it once, you'll want to come back. The smaller betting grid and simple wheel layout makes this an ideal game to play on your mobile phone too. The odds on offer at Mini Roulette are worse than you'll see at European or French tables, however slightly better than the American tables. At first look it seems that because you only have twelve numbers and one zero that the odds are much worse than at a normal table, however because you receive 50% of your stake back when hitting a zero, this balances things considerably. In mathematical terms, the house edge on European Roulette is 2.70%, American Roulette 5.26% – and Mini Roulette comes in at a competitive 3.85%.