Bingo Roulette – a special kind of game
Bingo Roulette is a game that brings together the popular pastime of Bingo with the casino favourite Roulette. This entertaining game uses elements of both games to create a brand new game. Bingo Roulette differs from the casino version of the game in the fact that players choose their own set of numbers by placing chips on the roulette betting area. The winning numbers are then decided by the spin of the virtual roulette wheel. Each player has eight chips, and when a player manages to hit all eight of their chips they will win the table prize. Players can play up to four sets of chips, to give themselves four times the chance of winning. Jackpot prizes are also available at these tables.
Bingo Roulette – How to Play the Game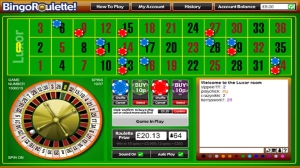 When you first enter Bingo Roulette you will be presented with a choice of different tables – each table having either a unique stake or a particular time that the table is active. The stakes range from £0.10p up to £0.50p. Having selected the stake you'll be presented with a page featuring a betting area filing the top half, a roulette wheel in the lower left hand side, an information window in the lower middle and a chat area in the lower right of the screen. The betting area is similar to a traditional roulette betting area, the difference being that only numbers can be bet on. If you enter Roulette Bingo during a game you'll have to wait for the game to end, however each game only takes a matter of minutes and you'll soon be ready to go. Between games you are given time to place all of your chips, or you can hit the shuffle button to be given a random selection. When the game starts again, the player has the choice of either manually marking off their chips or the chips will be removed automatically – and each chip set has a countdown so you'll know exactly how many chips you have left. The game ends when one or more player has no chips left. If there is a tie, the winnings will be shared between all of the winners. Each table has a jackpot – the 10p table has a £2,000 jackpot for winning in ten spins or less and £200 for twelve spins or less – the 25p tables has jackpots of £5,000 and £500, and the 50p tables £10,000 and £1,000.
Bingo Roulette at Tombola
Tombola is our recommended site for playing Bingo Roulette. Tombola has been in the Bingo business for over fifty years, and this brings with it a level of experience hard to find in the online gaming market. They are fully committed to secure transactions and store all personal information within a secure network. This means data, passed back and forth between your computer and their system is secured using public key cryptography. They have a large team of chat moderators based in the UK, and the site is committed to making your time at the table's fun, friendly and safe – and this is evident when playing the games. The site has a good variety of Bingo games, all based around the same premise of matching all of your numbers as quickly as possible – some more traditional, some fun (check out rollercoaster, where the bingo balls fall out of a rollercoaster and scream on their way down – surreal, yes, but a fun different take on the game!) When signing up to Tombola Bingo you'll receive a 200% deposit bonus of up to £20 and you'll also be able to play games on the go with their mobile app – if you like them on Facebook you can win a 'onesie' (jump-suit), vouchers or other prizes.
Bingo Roulette – Pros and Cons
Roulette bingo is a quick game that is a lot of fun. Whilst playing there are many players chatting, either about how many numbers they need or congratulating others when they win or discussion about the weather. The moderators even run quizzes whilst the games are ongoing offering cash prizes – not something you'd see in a Casino. The game play is very straightforward, and games are short enough not to drag, but long enough to feel like you are really in a game. One small criticism is that the game can feel a little contrived as the ball will always hit a number that it hasn't hit before, which of course could not happen in real life – and for the purists this might be an issue. However, the game achieves what it sets out to achieve, which is an entertaining and fast-paced bingo game that seems very popular. If you are a regular bingo player and you want to try something a little different, this game is highly recommended. For the roulette player, who might want to try their hand at a game with more of a social element to it – then I recommend you give it a go. Tombola bingo are generous with their bonuses and promotional offers, you find you get a lot of action for your money here, as well as the chance of a big jackpot win.