High And Low Stakes Online Roulette
Are There Any Casinos With No Table Limits At All?
All casinos publish limits for betting at their casinos, though this does not necessarily mean that they would refuse to take bets even higher than these. If you are a high-roller, then you will have an account manager assigned to help you get the most from the casino. I recommend you ask your account manager about higher limit tables as your first step. With 'normal' betting limits for high rollers at VIP tables going up to around $50,000, very few people will be betting more. As long as your casino is big enough to handle the swings from their side, then there is no real reason why they should refuse to take a bet of any size. The importance of staying with reputable brands should be very obvious when it comes to betting the highest possible table limits.
Key Casino Attributes for High Stakes Roulette Players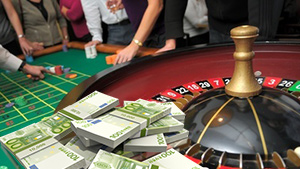 While many of the factors outlined here are important to roulette players of all different bankroll sizes, they are all extremely important to big bet players. These include licensing and regulation, reputation and benefits packages. Before even thinking of playing high stakes roulette at a casino you should do some background research to make sure that you are playing at a legitimate operator. There are several aspects to check out. A license from a reputable gaming jurisdiction is a starting point. Malta, Gibraltar and Alderney all have their own compliance rules and are considered reputable. You should also check for external certification of game fairness. Certificates from respected companies such as TST (Technical Systems Testing) or eCogra, along with RTP (return to player) percentages should be displayed. Choosing a casino with a listing on the London Stock Exchange will give you extra peace of mind. Listed companies are subject to thorough financial scrutiny. Industry awards are another great sign that you are playing with a fully professional operator. Bonuses and promotions at online casinos are often tailored to attracting the 'average' stakes players. If you are playing for high stakes, then you need to make sure that big bet players are looked after much better than this. Many casinos have special invitation only VIP programs, which offer exclusive benefits and service. If you can't see evidence that such an area exists at your casino, then there are plenty of online casinos who can offer you these exclusive deals. Best Roulette Casino for High Stakes Players If you want to play the highest stakes then you'll need a brand name that can be trusted with your money that also allows for big betting limits. 888 Casino fits both of these categories perfectly. As one of the oldest and best respected gambling brands online, 888 are as safe as they come. In addition they have betting limits up to £40,000 per spin in their roulette games. This is enough to keep most high rollers happy as it is. If you want to bet even more, then you can speak with your account manager about this. You'll have some excellent roulette games to choose from. These include standard European and French games. You will find streamed live-dealer casino which includes VIP roulette tables for big bet players. There is version called 'Immersive roulette' which includes fantastic effects and replays to enhance your high-stakes experience. Lower stakes players want to enjoy smaller betting limits, with the chance to win big money when things go right. Bonuses and promotional offers are also important, giving a chance to boost that bankroll and try out some new games. Best Roulette Casino for Low Stakes Players Ladbrokes are the perfect fit for lower stakes roulette fans in a number of ways. First of all they have lower betting limits than at most casinos. You can enjoy the roulette games for just 10p here. Second, there are a lot of bonuses which are well suited to smaller bankroll players. These include a 100% matched welcome bonus up to £500, then daily deals which change each week to follow. Ladbrokes also has a 'bonus store', where you can convert points you collect at the tables into extra bonuses. With a wide selection of roulette games, including some entertaining variations, Ladbrokes is a must-see for lower stakes and mid-stakes players alike.
Payment Options for High-Stakes Roulette Players
Safety is of paramount importance to high stakes players when it comes to payment options – both for deposits and withdrawals. Even a tiny fee as a percentage of your total deposit could end up costing a lot if you are a high roller. There are several options available. For large but not huge deposits, credit cards do offer that extra element of protection. You can deposit instantly, and if all else fails, charge-backs could be a last resort. If you have performed due-diligence and stick to a reputable casino that really should not be necessary. Bank wires are the simplest way of moving very large sums for a fixed cost. Depending on whether you are making an international or a local transfer, this process could take a few days to complete. Bank wires are the easiest withdrawal method for large sums too. I would avoid eWallet systems for larger deposits, while these are convenient for lower stakes players, the fees become disproportionately high for bigger amounts.